What does an automotive engineer really do?
Automotive engineering is one of the most exciting professions you can choose. From the global concerns of sustainable mobility, and teaching cars to drive themselves, to working out how we'll get around on the surface of Mars, automotive engineering is all about the future.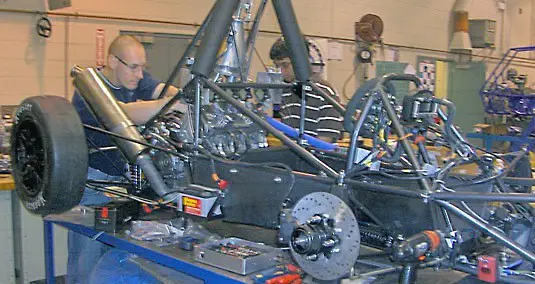 The challenges facing personal mobility are endless. Automotive engineers work in every area of the industry, from the look and feel of current cars, to the safety and security of new forms of transport. Attempting to make cars as fast as possible whilst keeping them fuel efficient may seem like an impossible task, but this is the kind of problem automotive engineers deal with every day.
The work of an automotive engineer breaks down into three categories:
Design: Designing new products and improving existing ones
Research and Development: Finding solutions to engineering problems
Production: Planning and designing new production processes
So what does an automotive engineer really do?
They study
They think big
They work in a global profession
They do more
They study
One of the first steps in becoming an automotive engineer is going to university. Most automotive engineers start out by studying Mechanical Engineering, but increasingly more specific Automotive Engineering degrees are becoming available.
Don't just look to apply in your home country – the automotive industry is truly international, and studying abroad might be your way into this popular job market. For a growing list of courses available world-wide please take a look at our Global University Guide.
If you're not sure that university is right for you, you could also explore apprenticeships as your route into automotive. If you want to know more about either option, have a look at our university advice page, and apprenticeship advice page.
Once at University taking an internship can be a really important step on your route into automotive. Having the right internship on your CV is an announcement to the industry how passionate and dedicated you are to your career. If you decide to take an internship in another country don't forget to take advantage of the FISITA Travel Bursary
They think big
The automotive industry represents some of the largest companies in the world, from car manufacturers to fuel specialists. As an engineer you can expect to work for one of these industrial titans. FISITA's Honorary Committee is made up of some of the most diverse and dynamic automotive companies, and if you are looking for a good place to start your career take a look at the graduate programmes offered by these companies.
They work in a global profession
Automotive engineers and automotive companies exist all over the world, based in completely different cultures and speaking totally different languages. The automotive engineer needs to know how to communicate on a global level and have a horizon broader than just their own culture.
A great way to be a part of this international community is to join an automotive engineering society in your county. FISITA exists as the global voice of the automotive engineering profession and aims to bring this community together and encourage the discussion and development of issues facing the international industry. To get involved and join your national society, take a look at FISITA's list of member societies.
Work experience at an automotive company is highly desirable on a CV, and the FISITA Travel Bursary is designed to help fund such an endeavour.
They do more
Automotive engineers are forward thinking people. They are dynamic, visionary, and are employed based on their ability to think outside the box. One way to expand your horizons, engage your passion, and to start thinking like an automotive engineer is to get involved with extra-curricular activities and competitions.
Additional skills and activities:
The variety of skills and tasks automotive engineers get involved with are almost endless Here are some examples to get you started.
developing new test procedures, using both conventional and innovative methods
bringing new products to market and being involved in problem-solving and project management
devising and organising tests, to answer questions from clients, consumers and other engineers involved in vehicle development
anticipating vehicle or component behaviour in different conditions with computer modelling software
analysing and interpreting technical data into reports or presentations and answering any queries about the results
building an individual specialism within a larger team and working independently
contributing to regular team meetings to update colleagues on progress, problems and new developments
managing all details of projects, including projected costs
recognising the benefits of engineering developments to related departments in order to market projects and secure internal funding
negotiating costs of development and engineering work with commercial departments
monitoring any related systems or engineering issues associated with the component and final product
supervising technical staff, engineers or designers (dependent upon specific role)
Operating in cross-functional or internationally-based teams to design experiments in order to test the validity and competence of new technology.
Credit : http://www.yourfutureinautomotive.com